Inside the Most Luxurious Private Jet Models in the World
If you're looking to travel in style, nothing beats luxury private planes. In these opulently appointed aircraft, you can experience world-class interior design, with everything from conference rooms to en-suite bedrooms and kitchens. If the usual designs weren't exciting enough for you, we've also included an overview of some of the latest interior concepts, inspired by Japan, the American West, Manhattan and Hollywood.
We take a look inside the most luxurious models in the world from manufacturers including Gulfstream, Boeing, Airbus, Cessna and Dassault, which offer all of the latest and greatest mod cons that might already be on your radar.
The Gulfstream G650ER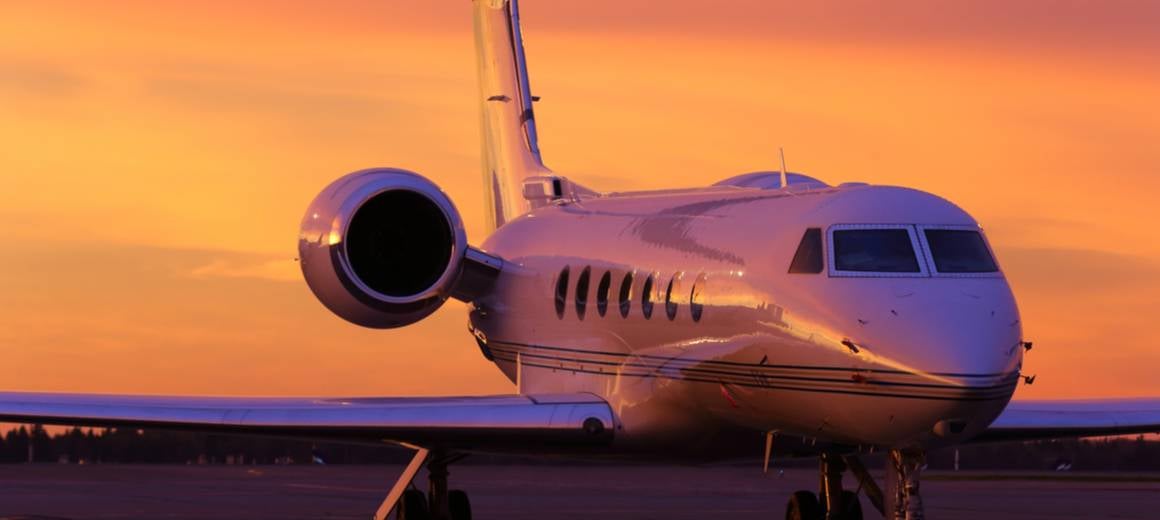 Range: 13,890km
Maximum cruise speed: 961kph
Cost: 4.5 billion rupees (for a 2020 model)
The Gulfstream G650ER is one of the world's longest-range business jets, capable of travelling further and faster than most of its competitors. Seating up to 19 passengers, this plane can fly non-stop between key business hubs, such as New York to Hong Kong, and London to Singapore. The G650ER has broken multiple speed records, and uses the latest cockpit technology, such as a fly-by-wire flight system and an enhanced vision system. For maximum comfort, the jet cruises at the lowest cabin altitude in its class.
This luxury private jet interior can be customised, and has a flexible layout, with premium leather, stonework, handcrafted divans, and quality wood fittings. Spaces include private staterooms and conference areas, bedrooms with en-suite bathrooms, sophisticated lounges and fully equipped galleys. There are 16 large oval windows to maximise natural light and provide stunning views. A cutting-edge Gulfstream cabin management system allows passengers to control the lighting, temperature, window shades and entertainment devices via a smartphone app.
Boeing BBJ MAX 7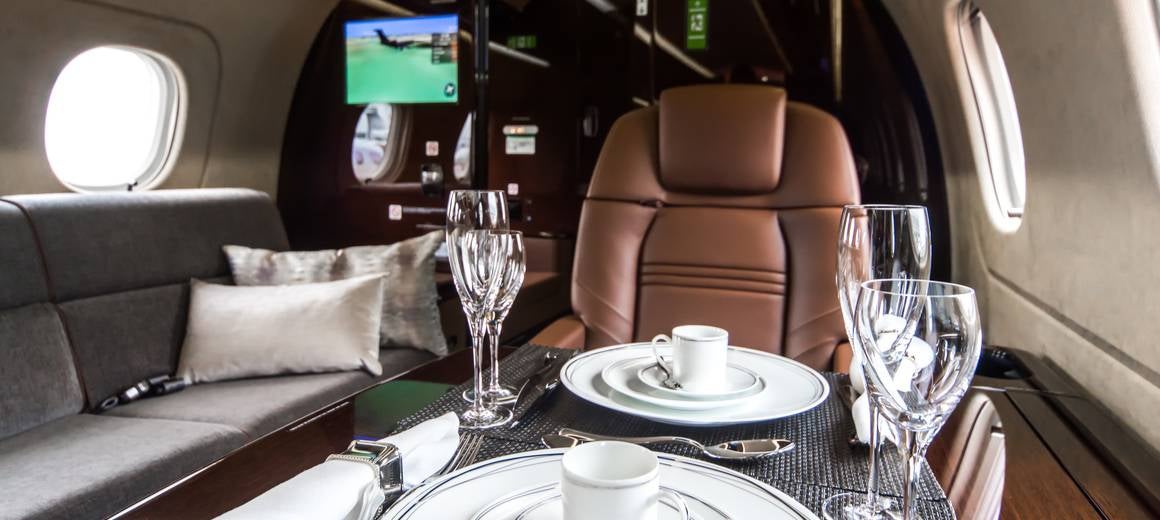 Range: 12,964km
Maximum cruise speed: 848kph
Cost: 7 billion rupees (brand new)
Boeing first unveiled its latest luxury private jet interior for the BBJ MAX 7 at the 2018 National Business Aviation Association conference in Orlando, Florida, US. The Genesis concept, designed by SkyStyle, takes inspiration from nature: the white, grey and blue palette represents clouds floating above a white-sand beach. The ceiling is decorated with LEDs to replicate a starry sky, while the cabin features long, curvy lines to evoke rolling hills.
One of the most expensive private plane options, the BBJ MAX 7 has a customisable layout that can include open meeting spaces for working, a bathroom with a stand-up shower, and lounge areas with long sofas. There's also a kitchen and bedroom, as well as a crew lavatory and rest area. A previous interior design for the BBJ MAX was developed by Alberto Pinto in warmer shades with classic wood and leather furnishings.
The BBJ MAX family, which also includes the BBJ MAX 8 and BBJ MAX 9, features some of the best private jets on the market. The MAX 7 has the most extensive 12,964km range, but all the models have CFM LEAP-1B engines, top-range flight-deck technology, and the MAX Advanced Technology Winglet, which reduces drag. Spacious cabins can accommodate 19 passengers, and are three times the size of most competitor jets.
Airbus ACJ neo range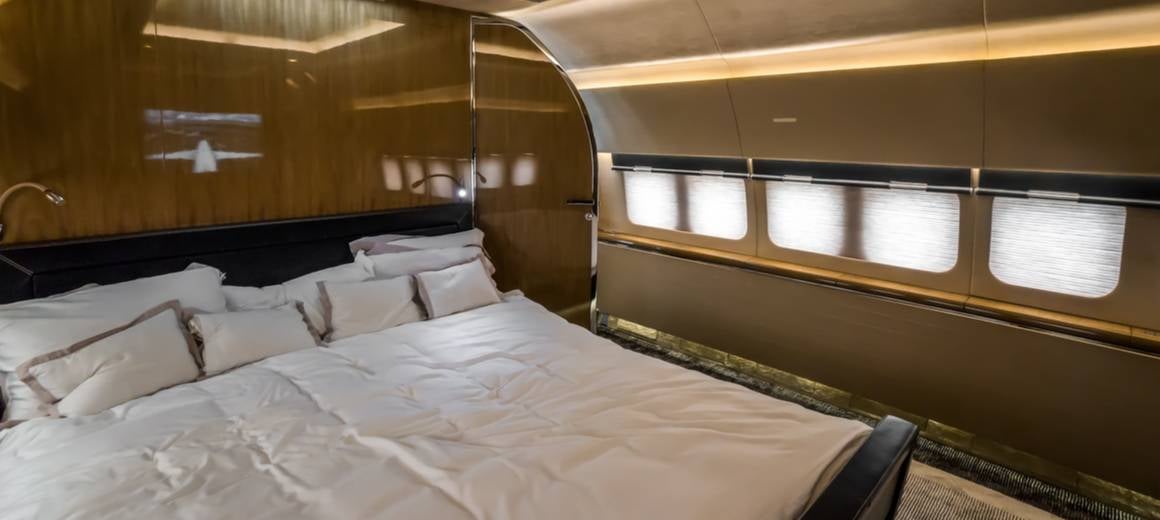 Range: 11,112km to 19,261km
Maximum cruise speed: 871kph to 912kph
Cost: 7.5 billion rupees (at 2021 list price)
Airbus offers a range of business jets that feature heavily in private aircraft guides. Models come with fully customisable cabins and unique interior-design options. Based on the most successful wide-body airliner in the world, the Airbus A330, the neo range has fly-by-wire flight controls, high-speed internet, advanced engines, and a fuel-saving wing design.
The ACJ320neo can seat up to 25 passengers and has a range of 11,112km. It's available in the Melody design, with flowing lines and curved walls inspired by desert dunes and rivers.
With an even more impressive 19,261km range, the ACJ330neo can fly for up to 21 hours non-stop. Designed specifically with the private, VIP market in mind, it's the ideal aircraft for government heads of state and delegates, and can seat up to 25 people. The jet's customisable Harmony design incorporates concentric circles and highlights like a holographic globe, which tracks the aircraft position.
There's a master bedroom and office, bathroom, and lounge with round tables for meetings or relaxing. Four VIP guest suites lie beyond the lounge, complete with individual offices that convert into bedrooms with en-suite bathrooms. There is also separate seating for support staff, and a galley at the rear of the plane.
If you're looking for a smaller aircraft, the ACJ319neo is one of the top mid-size luxury private jets. This aircraft accommodates up to eight people with a 12,501km range, and comes in the Infinito design, which boasts a classy tan, white and black colour scheme. There's a bedroom, conference area, lounge, bathroom and kitchen, but the stand-out feature is the sky ceiling, which can project views of the sky above.
Cessna Citation Longitude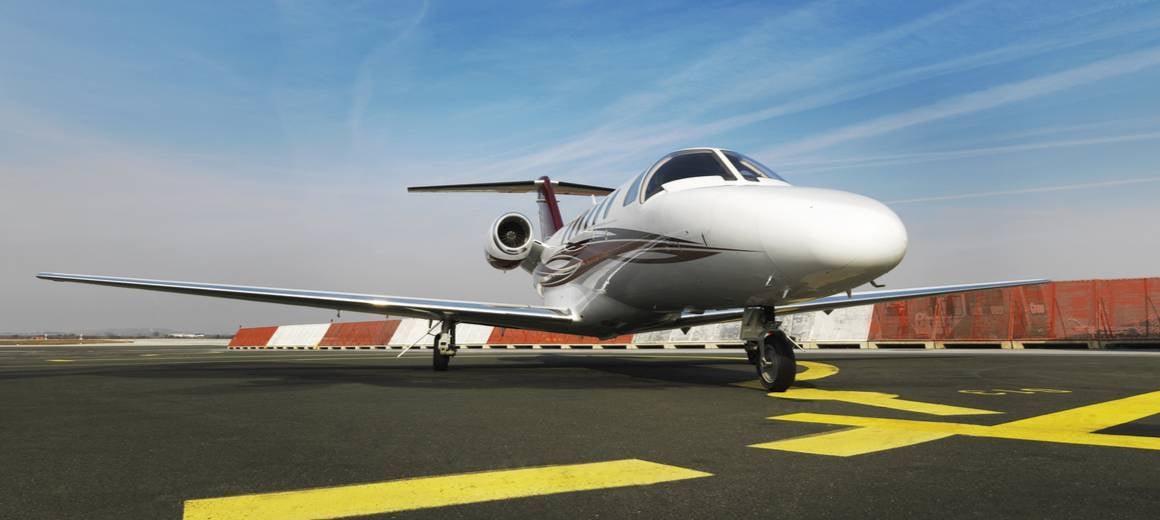 Range: 6,482km to 8,334km
Maximum cruise speed: 882kph
Cost: 1 billion rupees (brand new)
The Cessna Citation Longitude is a super-mid-size jet that's perfect for private plane charter flights. It seats up to 12 people, with a four-passenger range of 6,482km. The cabin is the quietest in its class, and has 15 large windows to deliver stellar views and maximum natural light.
Amenities include a walk-in baggage compartment, plush chairs, bathroom, and kitchen with an espresso maker. There are three configurations to choose from, offering side-facing seats and comfy couches. Design schemes include Bisque, Jet Black, Toffee and French Roast.
Although currently on hold, we hope to hear updates soon about Cessna's new Citation Hemisphere. This jet is expected to have a longer range of up to 8,334km and will have the widest cabin in its class, at 2.59m in diameter. Capable of accommodating up to 19 passengers, the aircraft will have over-sized windows for panoramic views and a recessed, LED-light ceiling panel that resembles a skylight. The customisable cabin will have three zones that could include a bespoke dining area, lounge, office and bathroom.
Dassault Falcon 8X

Range: 11,945km
Maximum cruise speed: 1,110kph
Cost: 4.2 billion rupees (brand new)
With a reputation for building precision military and commercial aircraft, Dassault has also brought its expertise to designing luxurious private business jets under the Falcon line.
This versatile model – the 8X – is particularly known for being able to handle multiple short-haul landings and takeoffs on runways that are too short or very steep, which makes this an ideal choice for getting to all those remote travel destinations (a far-flung Caribbean island anyone?).
Ultra-long-range capacity also makes extensive trips a breeze, thanks to the aircraft's three-engined 'trijet' setup, as well as a lighter fuselage, which provides added speed and efficiency. For example, the 8X is known for being able to make the trip from LA to Beijing in one go, which roughly translates to the same distance as a flight from Mumbai to Brisbane (about 10,000km).
When it comes to the inside of the Falcon 8X, there is also considerable 'loungeability', with more than 30 possible configurations for the interior. Options include either formal or informal seating, or lounging arrangements. Another addition is high-speed connectivity, thanks to a Ka-band satcom solution to ensure non-stop internet and communications, even while flying over oceans. Passengers can also control all cabin functions with the use of side ledge controls, or a convenient mobile app.
With superior sound-proofing technology, you'll also be travelling in the quietest cabin in the industry. If you're concerned about health and air quality, rest assured that the advanced air cabin filtration and circulation system provides air quality that is 10 times better than the required minimum average, and is continuously refreshed.
Embraer Lineage 1000E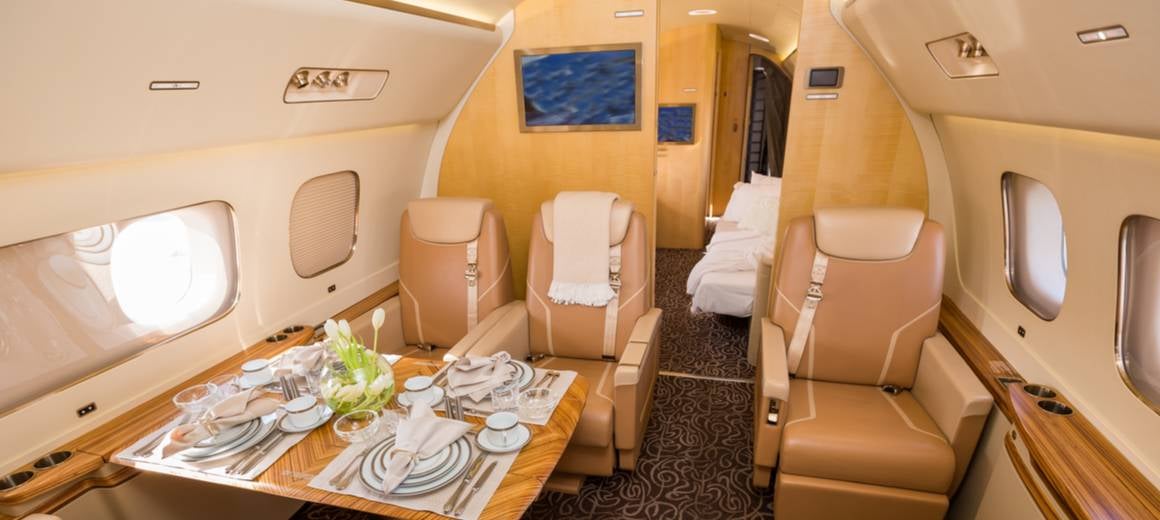 Range: 8,519km
Maximum cruise speed: 874kph
Cost: 3.5 billion rupees brand new
Based on the Embraer E190 regional airliner, the Lineage 1000E can carry 19 passengers and has a large baggage compartment. The cabin layout features five zones spread over 283 cubic metres, and can be arranged in various configurations. Options include office spaces, en-suite bedrooms, living rooms and bars. With an area that can be designed to have a master bedroom featuring a walk-in shower, this is certainly luxurious.
Top aircraft designer Jay Beever has created five designs for the Embraer Lineage 1000E:
The Kyoto Airship, which comes with floor-to-ceiling windows, provides a panoramic view as well as a minimalist interior that will make you feel as though you've entered a modern Japanese tea room, but with all of the extra amenities.

A nautical-themed Skyacht One, which mimics a superyacht with mahogany, wood and brass, and might make you want to head straight to a reclining lounger.

The Skyranch One design has a Wild West feel with horn trimming, saddle-stitched leather and bleached wood.

The Manhattan has a jewel-coloured interior inspired by 1930s art deco Manhattan in New York City, reminiscent of famous buildings and interiors of the time, such as the Empire State Building, the Chrysler Building and the Waldorf Astoria hotel.

The Hollywood concept has a cloud club bar and 1930s Tinsel Town feel, which might make you feel like you're hobnobbing with the great names of the golden age at famous Los Angeles locations such as the Chateau Marmont on Sunset Boulevard or the historic Beverly Hills Hotel (now the Beverly Hilton).
From all of these different designs, it's not difficult to see how sumptuous, and fun, travelling by private aircraft can be.
Arrange your own private jet hire with ACS
Now that you've taken a look inside the most luxurious private jets, how about arranging your own private plane rental? At Air Charter Service (ACS), we have an extensive fleet, and can cater to a variety of individual requests and preferences, subject to availability.
Whether you're travelling for business or leisure, contact our team to obtain a quote for your private jet charter needs. We look forward to hearing from you, and helping you plan your next trip in style!
Note: All currency conversions made with the exchange rates available at time of update and sourced from xe.com